Regarding efficient waste management, nationwide skip-hire services offered by JBM Environmental Services are second to none. Whether you're planning a small DIY project or a large-scale construction endeavour, choosing the right skip size is crucial for smooth waste disposal. In this comprehensive guide, we'll walk you through selecting the perfect skip size for your needs, ensuring that your project runs seamlessly with our reliable nationwide skip hire and waste management services.
Understanding Skip Sizes
At JBM Environmental Services, we offer a variety of skip sizes to cater to diverse projects across the nation. Let's explore the most common skip sizes and their respective capacities:
Mini Skip (2-3 cubic yards): Ideal for household clear-outs, garden waste, and small DIY projects.
Midi Skip (4-5 cubic yards): Suitable for bathroom and kitchen renovations, and moderate amounts of construction debris.
Builders Skip (6-8 cubic yards): Perfect for larger home renovations, construction sites, and significant clearances.
Maxi Skip (10-16 cubic yards): Designed for bulky waste from substantial projects and commercial sites.
Roll-on Roll-off Skip (20-40 cubic yards): Best suited for extensive commercial or industrial projects.
Understanding the dimensions and capacities of each skip size allows you to make an informed decision tailored to your waste disposal requirements.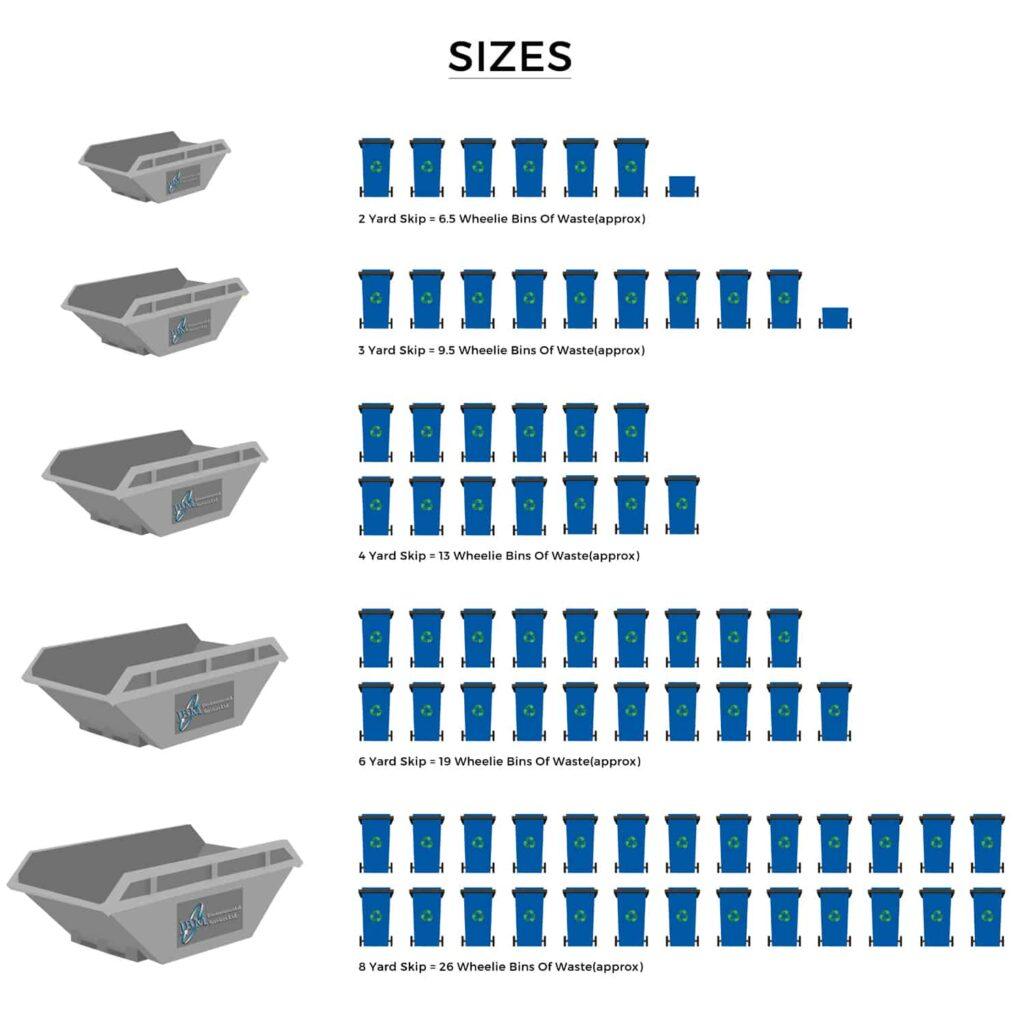 Matching Skip Sizes to Projects
Selecting the right skip size is essential to optimize waste management and cost-effectiveness. Consider the following guidelines for matching skip sizes to your specific projects:
For small household cleanouts, garden clearances, or minor DIY tasks, a mini skip is the ideal choice.
If you're planning a single-room renovation or bathroom remodel, a midi skip should suffice.
Larger home renovations, construction sites, and substantial clearances call for a builder's skip.
For major commercial projects and extensive waste disposal needs, the maxi skips or roll-on roll-off skip will be most suitable.
Maximizing Skip Space
To get the most value out of your nationwide skip hire, JBM Environmental Services suggests these space-saving tips:
Disassemble bulky items: Dismantle furniture and other large items to maximize space utilization.
Flatten materials: Compress waste, flatten cardboard boxes, and pack efficiently to reduce volume.
Load strategically: Distribute weight evenly and avoid overfilling the skip to ensure safe transportation.
Following these tips will help you optimize skip space, potentially avoiding the need for multiple skips and saving you time and money.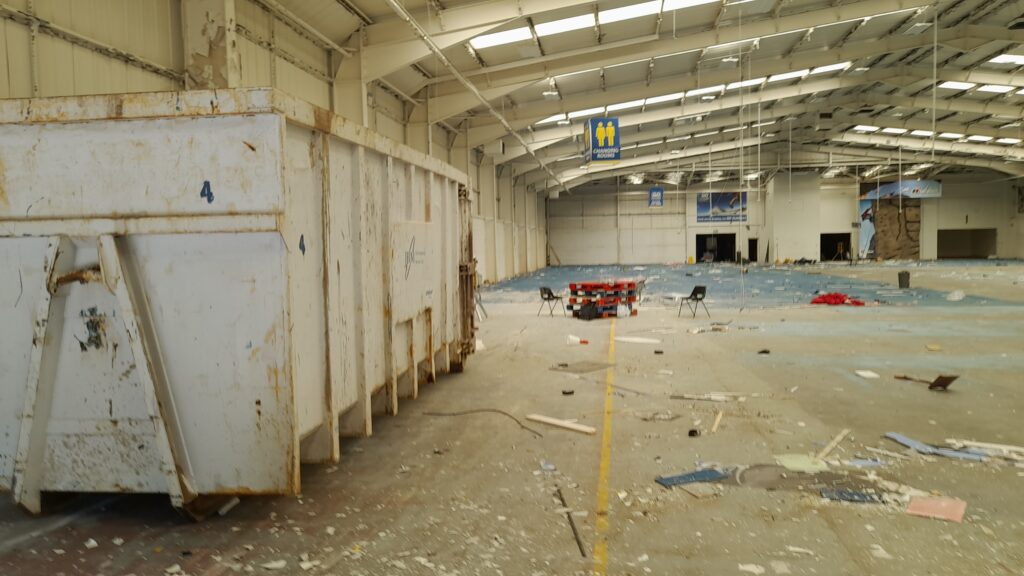 Handling Different Waste Types
It's essential to know what can and cannot be placed in a skip before commencing waste disposal. Common materials suitable for skips include general household waste, garden debris, construction materials, and non-hazardous items. However, hazardous waste, such as asbestos, chemicals, and electrical appliances, should never be placed in an open skip however specially designed enclosed skip.
Advantages of Nationwide Skip Hire with JBM Environmental Services
When it comes to waste disposal and skip hire, partnering with a reputable nationwide service provider like JBM Environmental Services offers several distinct advantages:
Nationwide Reach: With JBM Environmental Services, you can access skip-hire and waste management solutions across the entire country. No matter where your project is located, you can count on our extensive network to deliver and collect skips promptly, ensuring a seamless waste disposal experience.
Reliable and Efficient Service: Our company is committed to providing reliable and efficient services to our clients. From the moment you place your skip hire request to the collection of waste, we prioritize timeliness and professionalism. Our team is dedicated to making your waste management process hassle-free and convenient.
Customized Solutions: At JBM Environmental Services, we understand that each project has unique waste disposal requirements. That's why we offer a range of skip sizes and waste management solutions tailored to your specific needs. Our experienced team can assist you in selecting the perfect skip size and provide guidance on handling different types of waste.
Environmentally Responsible Practices: As an environmentally conscious company, we emphasize sustainable waste management practices. We strive to recycle and repurpose materials whenever possible, reducing the environmental impact of waste disposal. By choosing JBM Environmental Services, you contribute to a greener future.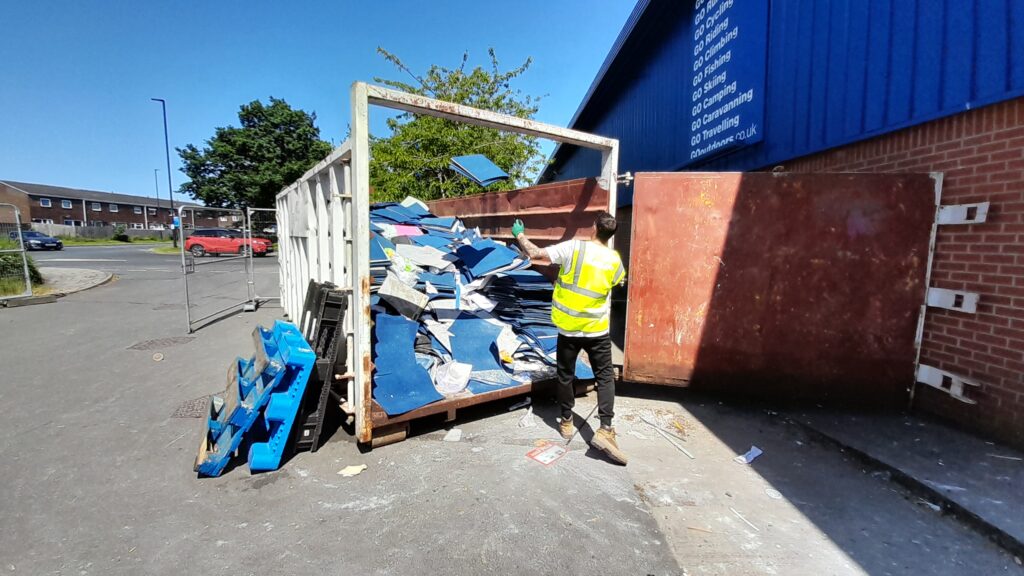 Additional Services Offered by JBM Environmental Services
Beyond skip hire, JBM Environmental Services offers a comprehensive range of waste management solutions to cater to various industries and projects:
Roll-off Container Rental: In addition to traditional skips, we provide roll-off container rentals for larger projects that require frequent waste removal. These containers offer increased capacity and are suitable for ongoing construction and demolition sites.
Hazardous Waste Disposal: Our team is equipped to handle the proper disposal of hazardous waste in compliance with relevant regulations. Whether it's chemicals, asbestos, or other hazardous materials, you can trust us to handle these items safely and responsibly.
Site Clearance: JBM Environmental Services offers site clearance services for commercial and industrial projects. Our experienced team can efficiently clear and dispose of waste, leaving your site clean and ready for the next phase of your project.
How to Book Nationwide Skip Hire with JBM Environmental Services
Booking nationwide skip hire with JBM Environmental Services is a straightforward process. Simply follow these steps:
Visit our website or call our customer support team to discuss your waste disposal needs.
Our team will guide you through the selection of the right skip size for your project.
Choose a convenient delivery date and location for the skip.
Our team will deliver the skip to your specified location on the agreed-upon date.
Fill the skip with the approved waste materials, ensuring that hazardous items are kept out.
When your project is complete or the skip is full, notify our team for collection.
We'll promptly collect the skip, and our waste management experts will responsibly handle the waste.
Conclusion: Nationwide skip hire and waste management services offered by JBM Environmental Services present a reliable, efficient, and environmentally responsible solution for waste disposal needs across the country. With a wide range of skip sizes, personalized service, and a commitment to sustainability, JBM Environmental Services is the ideal partner for all your waste management requirements. Choose us for your next project and experience hassle-free waste disposal while contributing to a greener and cleaner environment. Contact us today to book your nationwide skip hire and join us on the journey towards a sustainable future.